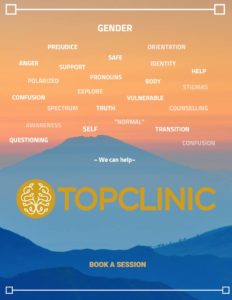 Gender falls on a spectrum.
An interesting article on the phenomenology of being gender-non conforming was published recently. This means, this piece of investigative research consolidated themes of the struggle. They report the following:
questioning,
being true,
social concerns,
visibility,
support,
prejudice,
connection,
body,
care,
vulnerable,
denial,
confusion,
uncertainty,
acceptance,
community,
complex,
spectrum,
discrimination,
transition,
validation
https://commons.pacificu.edu/cgi/viewcontent.cgi?article=1360&context=spp
Gender identity is not as simple as the polarized social view of male vs. female and most humans fall somewhere on the spectrum in between.
Individuals who seek professional care when identifying within the genderqueer experience report desiring: "competency, comfort and experience" from their mental health care provider. At TOP Clinic we prioritize each individual's unique sense of self with non-judgemental, accepting support.
You can request an initial consultation by using our booking form.
Written by
Lauren Deimling Johns
D.Couns.Psy., C. Couns. Psychol. PsSI.